Verus Financial
Website Redesign for a Financial Planner
Strategy, Custom Web Design, Responsive Development
Background
Verus Financial Partners knows that financial planning is about so much more than just money; it's about serving others to help take them where they want to go in life. This tenet is reflected in the business name: Verus is the Latin word for truth, honesty and authenticity.
Verus team members take the time to understand the passions and goals of each client to develop a personalized plan to achieve what is most important in their lives. By not selling products, setting quotas or earning commissions on recommended investments, Verus is able to focus entirely on serving the best interests of its clients.
The Challenge
Verus came to COLAB with the goal of creating an intuitive website to showcase its mission and values to help visitors understand the advantages of working with them to create a comprehensive financial plan. Developing a logical content hierarchy and identifying content gaps would be a crucial part of effectively telling that story online.
We were also challenged to evolve the design of the site to more closely align to the Verus brand and showcase the most important aspects of a user's journey to making contact. Calling more attention to team members, contact information and client logins would help visitors find the most important information as quickly as possible and in turn transform the site into an effective tool for building new relationships.
It was also important to avoid using the stern, staid imagery traditionally associated with the financial industry. We needed to find a way to create an engaging website that showcased the interactive, relationship-driven approach that sets Verus apart from its competitors.
The Solution
We decided on a typography-driven approach to telling the Verus story. From the initial animation when visitors arrive on the site, we begin establishing the Verus mission and conveying the sense of comfort and integrity Verus clients will feel when they begin a relationship.
In order to allow Verus to guide visitors through the site and highlight the most important information, we created a library of typographic components that can be added or removed from each page. With these typographic components, we created a modular administration system that allowed the Verus team to easily craft new web pages and edit existing ones while still maintaining a consistent tone across the entire site.
We wanted to bring the site to life without making it feel slow or unnecessarily flashy. We accomplished this by loading each page element as a visitor scrolls. This subtlety establishes a more conversational tone that mirrors the experience of working with the Verus team without becoming a distraction.
Similar to every site we create, we wanted to make sure that the user experience was consistently excellent across every device – desktops, laptops, tablets, and phones. We spent time intentionally crafting our animations and typography to look as great on small screens as they do on large screens. This gives end-users the best experience regardless of how they are accessing the site.
Highlighting the importance of relationships wouldn't be complete without showcasing the wonderful people who make it all possible. We designed the team page to be a clean, inviting way to see everyone on the Verus staff, with individual staff bios available to discover more about a particular team member.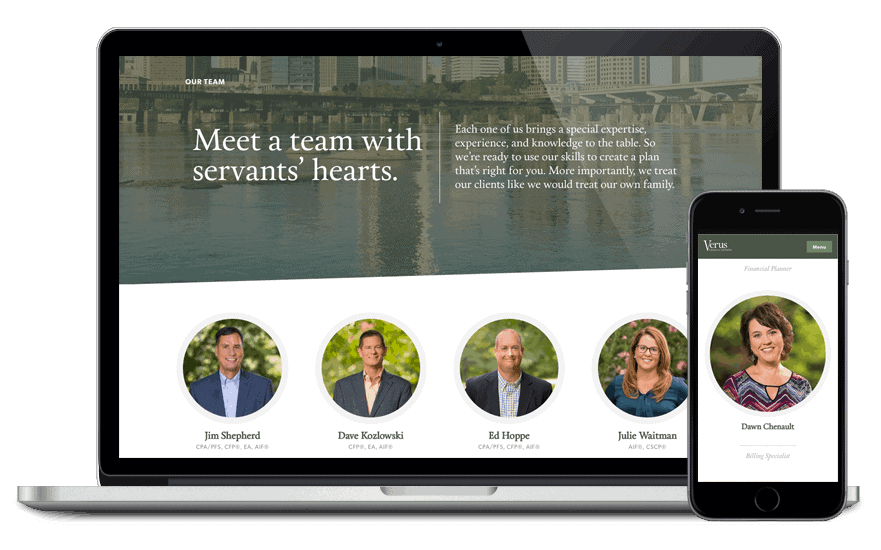 Beyond our excellent relationship with Verus, we also partnered with Jeff Kelley, who provided photography, video and copywriting for the site. Jeff was an integral part of the storytelling experience, and a key reason the Verus site is as effective a tool as it is today. We're thankful to have had the opportunity to collaborate with him to bring the site to life.
Results
Just like Verus, COLAB is in the business of helping people, and we're proud to have had the opportunity to help everyone at Verus create a website that is representative of their brand.
Upon launching the site, Verus identified an internal need to revitalize their News & Resources section to create a better experience for their administrators and their clients. Because of the site's integration with a content management system (CMS), we were able to deliver a workflow that was easy for their team to manage and easy for their users to navigate.
Using a CMS allowed us to seamlessly deliver this second phase feature without overhauling the new site we had just launched. Typographic components and animations were smoothly carried over to the new blog as well, creating a consistent and flexible solution for the Verus team.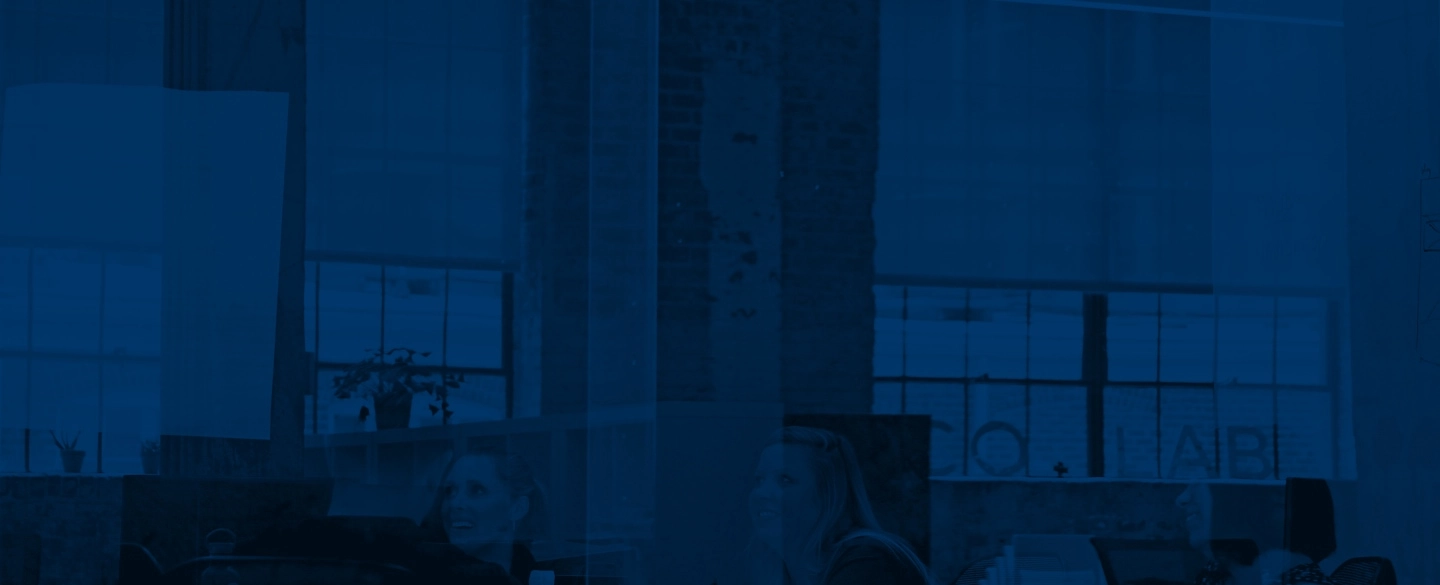 Like our work?
Learn more about what services COLAB can offer you and your business.