Xenith Bank
Commercial Bank WordPress Redesign on Secure Hosting
A website redesign that helped lead to a bigger vision.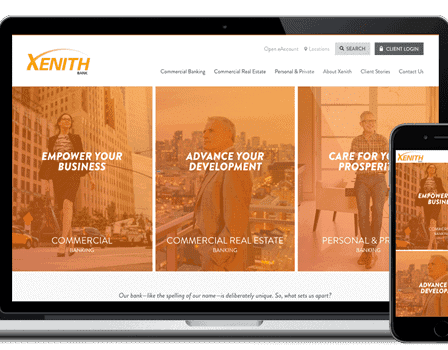 Background
Xenith Bank's focus is in Virginia business, real estate, retail, and private banking. Since opening in December 2009, Xenith has seen incredible growth year after year due to the reputation they are building for themselves.
Now a division of Union Bank and Trust, Xenith is part of the largest regional financial institutions based in Virginia. This strengthens the brand's presence in Hampton Roads, while also expanding to North Carolina and Maryland. Most of their new business comes from referrals, which is something they wanted to preserve. Their goal is to make every customer a raving fan.
The banking landscape in Virginia consists mostly of small community banks, and large, nationwide 'megabanks.' Each serve their segment well, but don't serve Xenith's target well. Xenith believes that their market needs a bank with substantial capital resources, local management and decision making, state-of-the-art technology, and a team of experienced professionals dedicated to helping them prosper.
Xenith Bank's Vision: "We want to create the bank you have always wanted to do business with… and the bank we have always wanted to work for. We think you'll find our attitude and approach to doing business refreshing."
We believe we have captured that vision in the redesign.
The Challenges
Xenith's previous website was not mobile-friendly, not easy to navigate, and didn't tell a story worthy of the brand.
While not a 'megabank,' Xenith still had multiple stakeholders within various departments and branches involved in the project. This presented some challenges around content development and photography.
By definition, a banking site has its own stringent financial compliance and strict security requirements. Also, the new site needed to support significant amounts of traffic from several branches and service areas
The new site had five goals:
To provide clarity in Xenith Bank's message
To show "Why Xenith," that is, to clearly communicate their points of differentiation.
To generate more qualified leads/customers
To make the Xenith Bank brand more personable, and
To communicate directly to Xenith Bank's target audiences.
The Solution
We crafted a solution that catered to the needs of the business.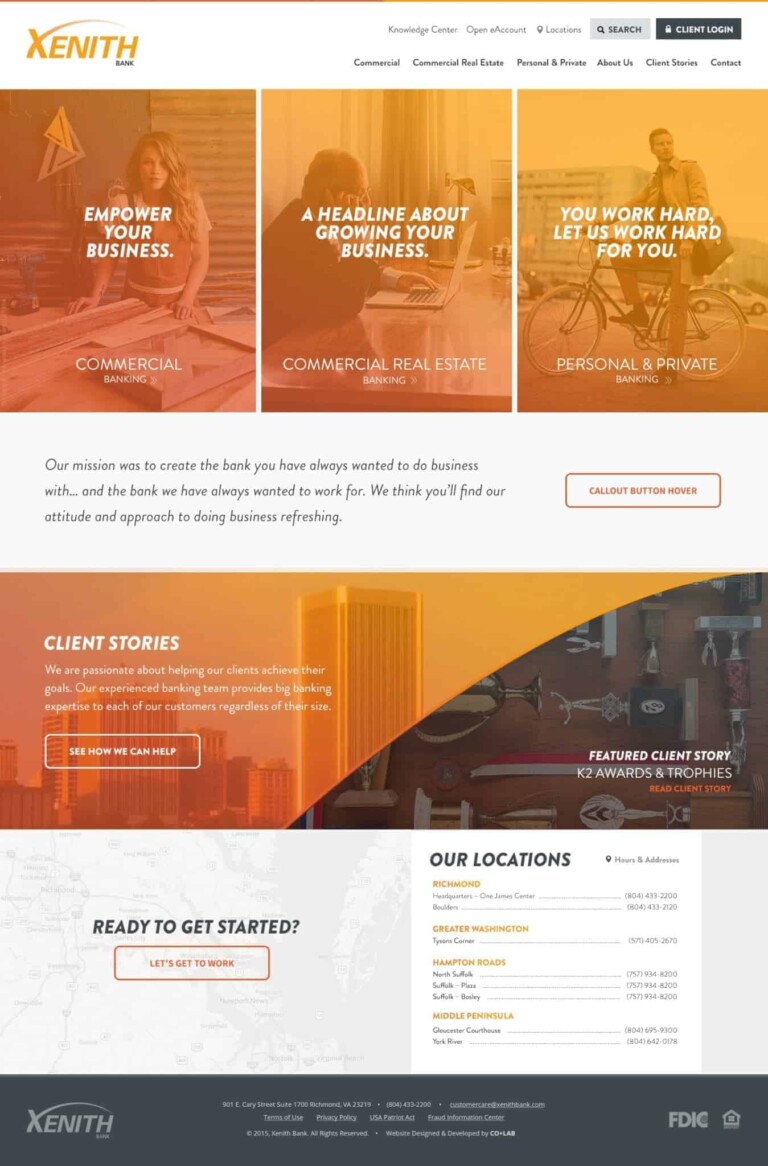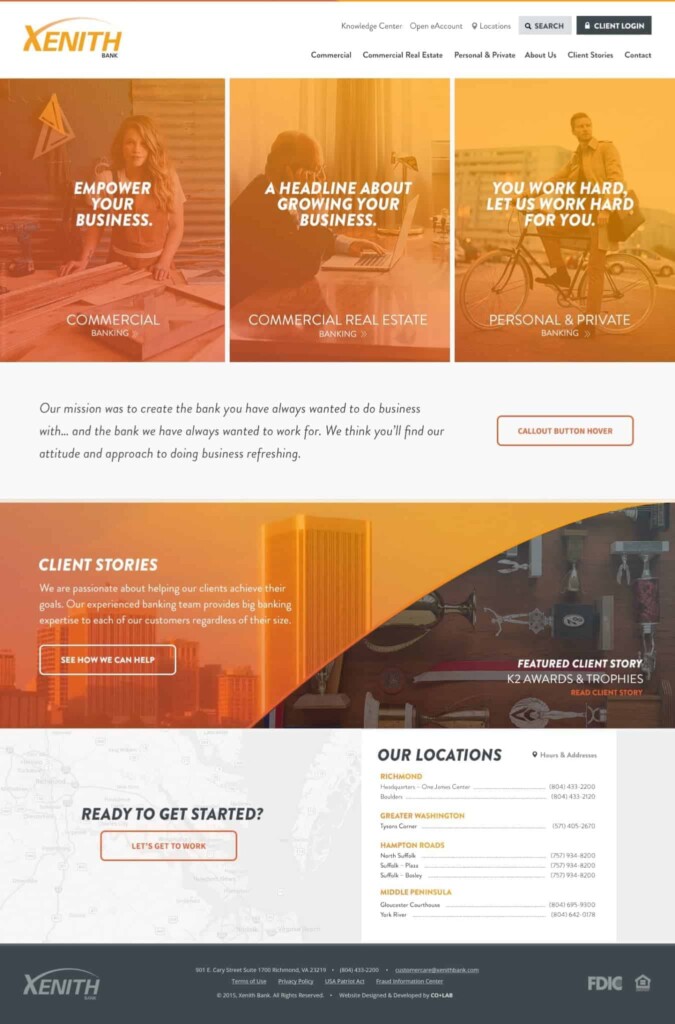 With more than 20 stakeholders participating in writing, editing, and proofreading new site content, we used GatherContent to keep the content strategy and creation organized and collaborative.
To help make the brand more personable and approachable, we developed a dynamic staff search directory for Xenith staff featuring format thumbnails and candid portraits on the individual bio pages.
For the strict compliance and security requirements, we worked closely with Xenith Bank's technology leadership, and provisioned and load tested dedicated hosting through Armor (Formerly Firehost).
We also worked with our copywriting partners and Xenith Bank leadership to clearly and effectively tell the bank's story and convey their core mission and values, including detailed customer testimonials.
And we wrapped all that in a clean, modern design geared toward a wide variety of user types with clear calls to actions and helpful links to bios and contact info so that users can quickly and easily get in touch.
Results
As of this writing, Xenith Bank has seen a 300% increase in mobile traffic, and a 30% increase in overall pageviews (from launch date to time of writing, compared to previous period). They have also reported a marked increase in calls and leads from the website.
Update: as of January 1, 2018, Union purchased Xenith Bank in a $701M transaction.
We believe that our two companies are stronger together and the combination gives Union a unique franchise to create long-term shareholder value

John C. Asbury, President and Chief Executive Officer
Union Bankshares