DiscoverNEPA
A non-profit driving economic development digitally, through events & education
We created a tourism website to promote Northeast Pennsylvania.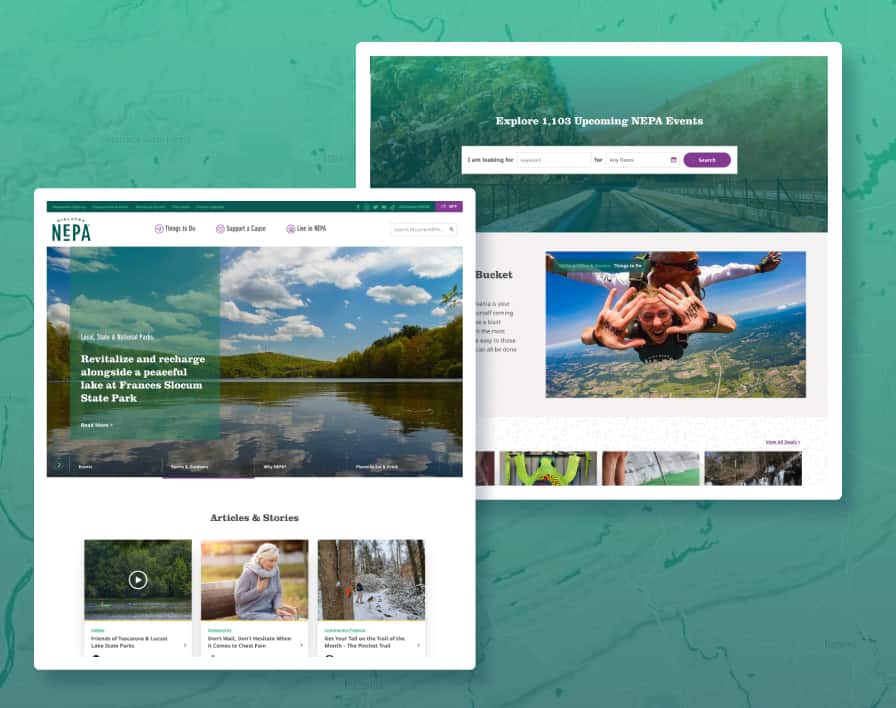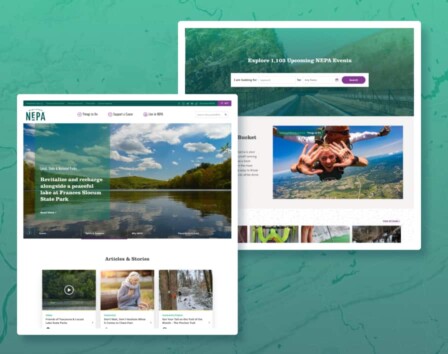 Opportunity
The region had an aging workforce and needed to attract younger, skilled professionals to relocate to the region.
Solution
COLAB performed extensive competitor analysis and research to differentiate how to promote NEPA as an ideal place to live, work, and play.
Outcome
After the public launch, the site saw 138% year-over-year growth in site visits within the first two years.
DiscoverNEPA was established in 2017. Their mission centers on building and promoting Northeastern Pennsylvania's 10-county region as a premier place to live. Their goal is to attract new talent to the area and encourage relocations, thereby offsetting an aging local workforce. As the first regional quality-of-life resource, its tireless efforts contribute to the region's popularity as a tourist destination as well as a vibrant community in which to live and work. COLAB partnered with DiscoverNEPA to build a website and digital visual brand for the launch of their organization.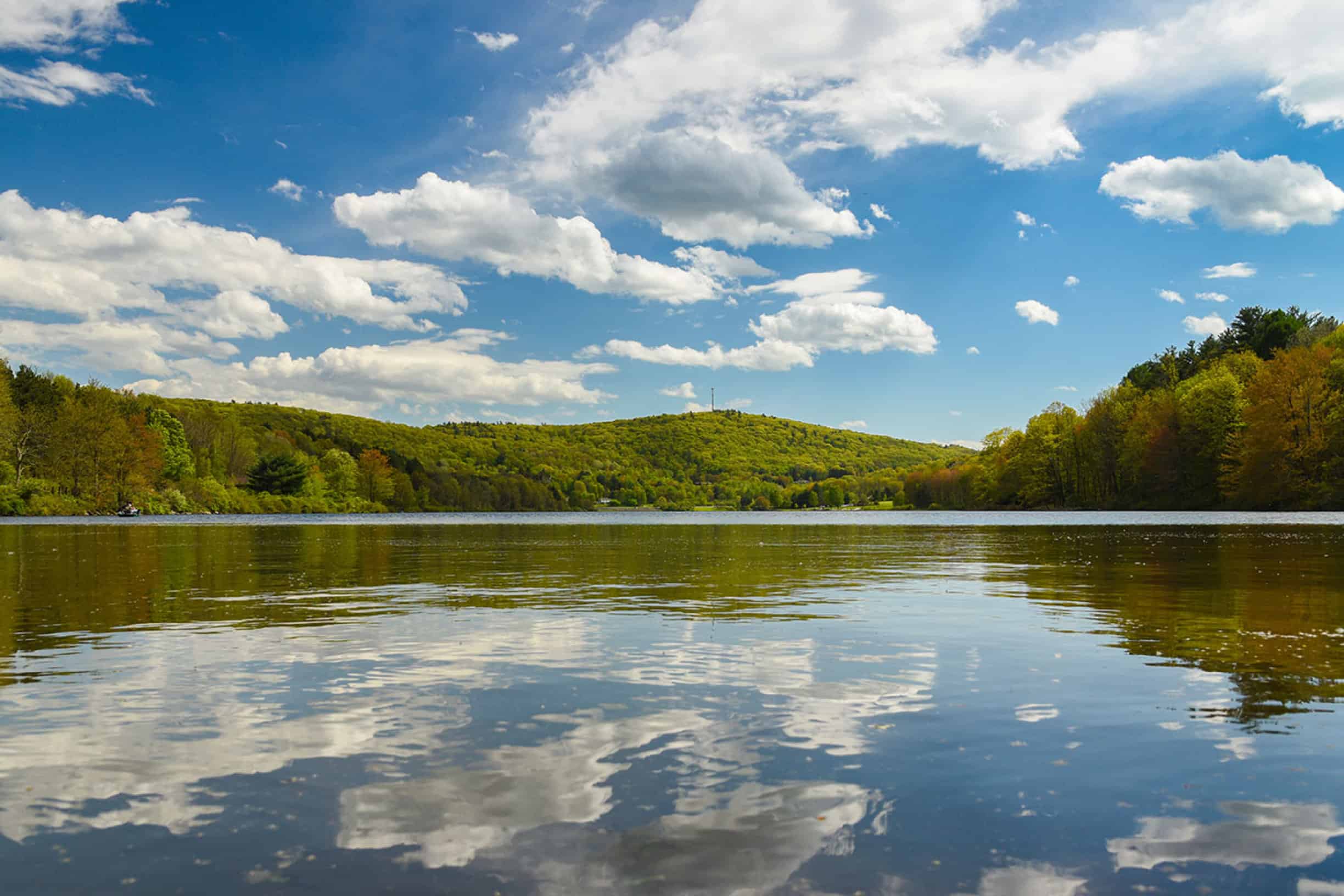 An aging community losing skilled members of the workforce
COLAB was asked to promote NEPA's quality of life and amenities, retain young professionals that grew up in the area, recruit talented individuals to the region, and brand the region as one of the nation's best places to live.
After performing extensive competitor analysis and research to identify NEPA's differentiators, COLAB identified opportunities and, alongside the DiscoverNEPA team, prioritized the following initiatives:
A modern, digital brand – along with a responsive design and frictionless user experience – must capture and engage the target audiences.
A searchable database of all events, quality-of-life assets, and amenities would be required to help users quickly and easily understand everything available in NEPA.
The website must eliminate the "brain drain," encouraging Northeastern Pennsylvania's best and brightest to stay in the region by promoting NEPA's quality of life and amenities.
A single digital property that makes it easy for potential residents or visitors to become part of NEPA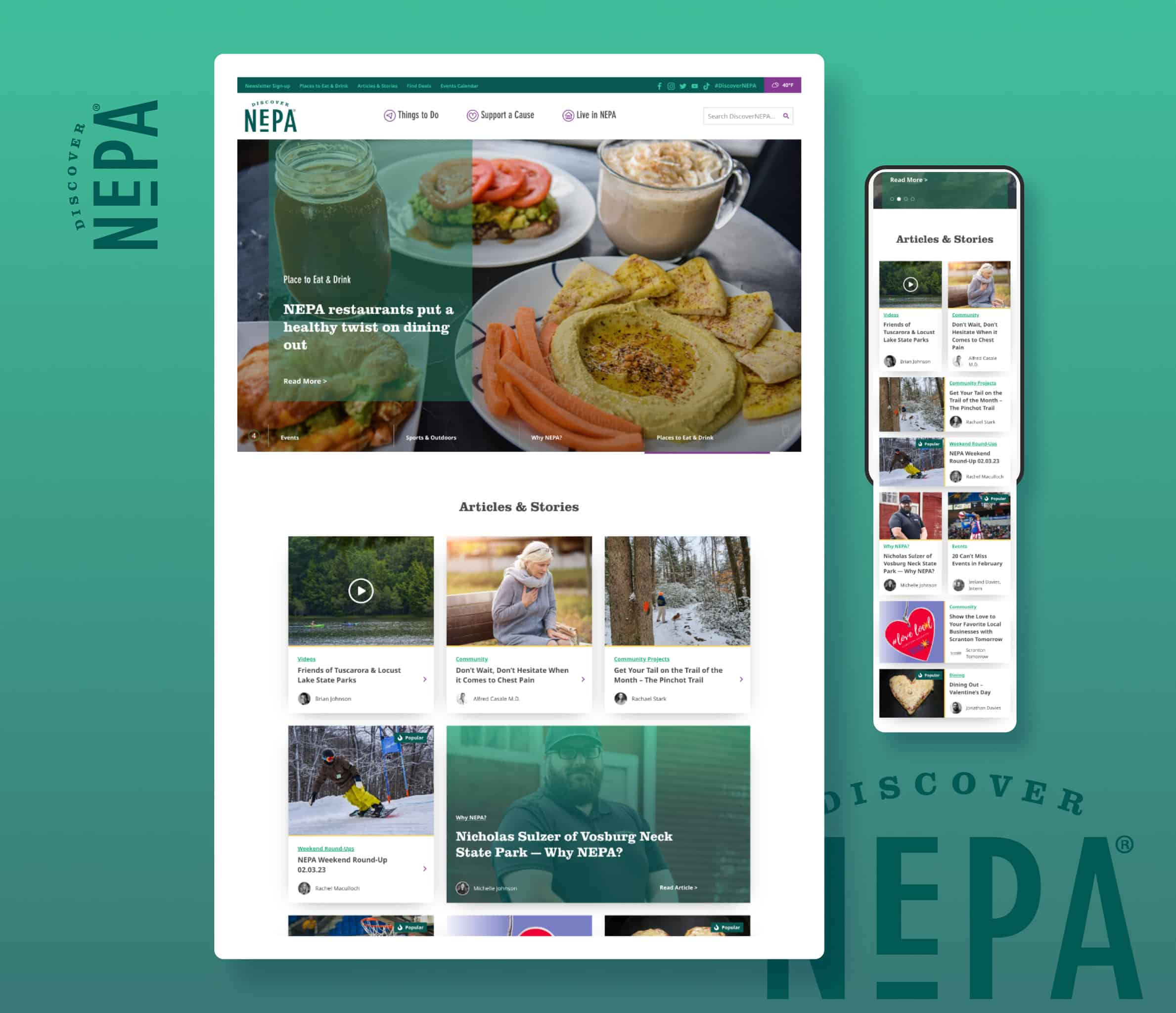 While there were no competitors that encompassed the whole region, COLAB studied smaller, more targeted resources in the area as well as best-in-class "business listing" products such as Yelp and Google Maps for inspiration on how to create a great user experience, aligning with users' expectations from similar resources.
As a new entity and new brand, there was no data or analytics for COLAB to test assumptions and user needs against. COLAB understood that scalability would be vital, and the site (as well as its content) needed to be flexible to easily adjust to new needs as they arise.
The site was built with reusable componentry and design patterns, allowing each component to be tested in isolation, simplifying the QA/testing process on a large, complex site. Flexible content management controls allowed the content team to use these generic components to quickly create bespoke layouts.
Specific features of the DiscoverNEPA website include: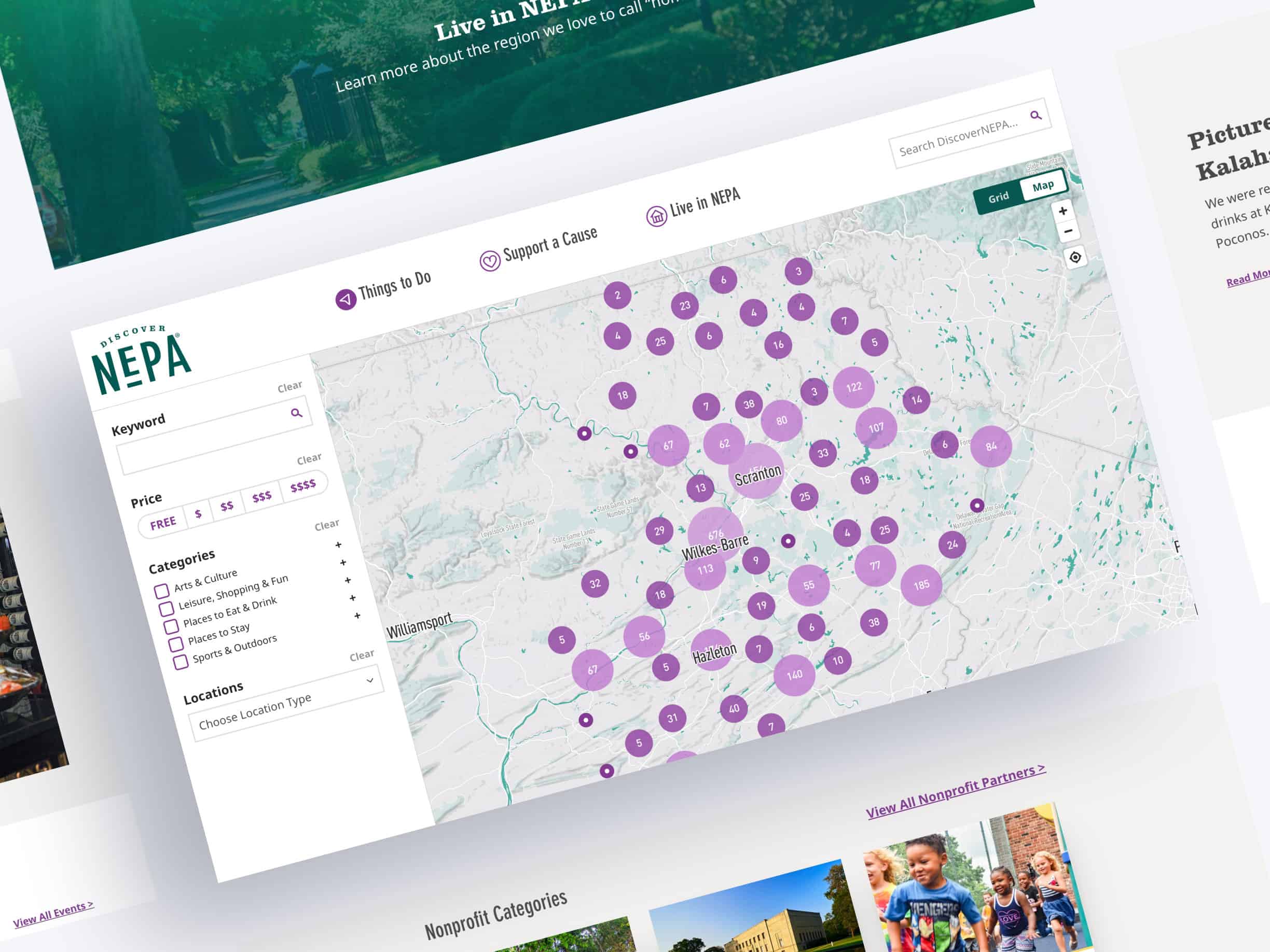 138% year-over-year growth in the first two years, a positive projection, and strong community presence
Since its initial launch in 2018, the DiscoverNEPA website has been highly successful. Specific highlights include: 3,500+ local businesses are represented, more than a thousand non-profits and community organizations are highlighted, and more than 5,000 events are featured. Each NEPA region is represented on the site: Valley Communities, Endless Mountains, and Poconos Mountains. DiscoverNEPA.com currently receives tens of thousands of visitors each month, continuing a steady upward trend since the initial launch.
The COLAB team has been a huge help as we navigate this. Really can't say enough
good things.

Rebecca Milton
Creative Director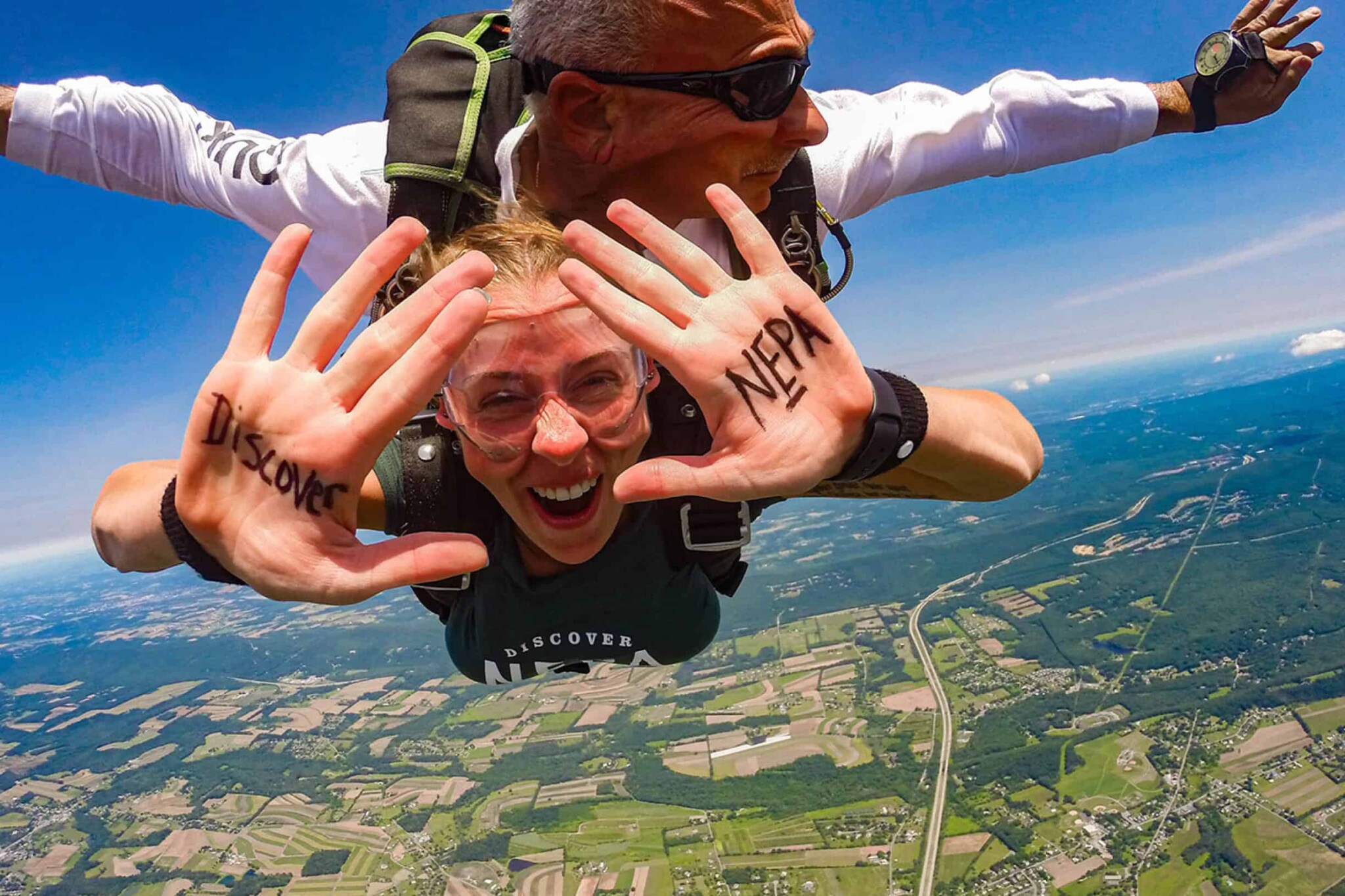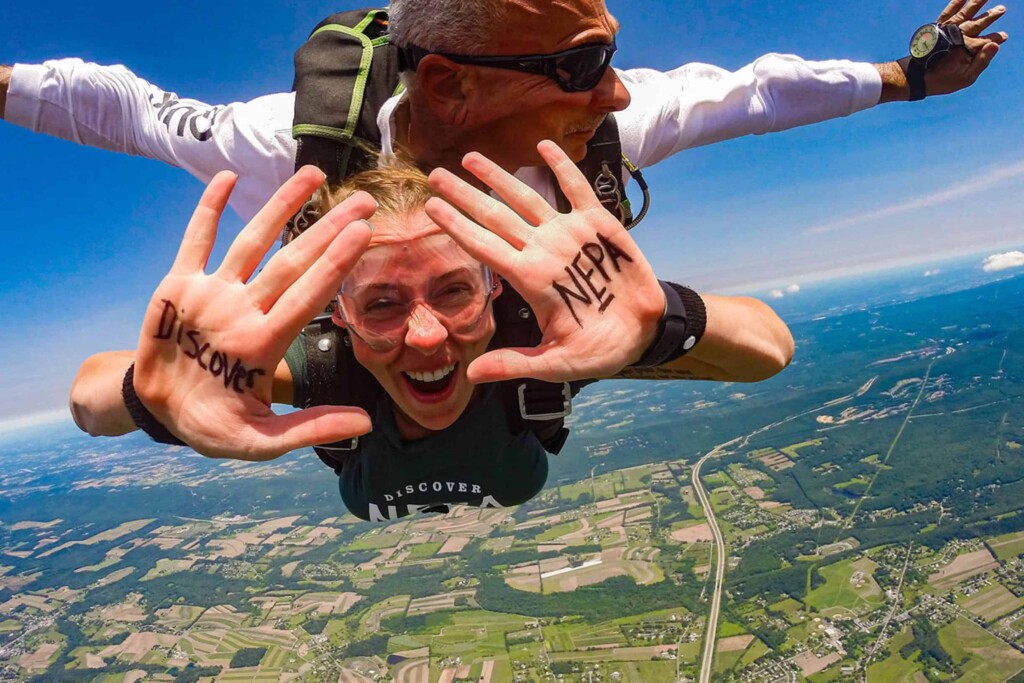 Engaging content draws users in to discover and explore more about the region. From an infrastructure perspective, the website has scaled well, accommodating thousands of things to do and events over the last five years. Using a WebOps approach to continuously iterate and optimize the website, COLAB empowered the DiscoverNEPA team to expand its content in engaging ways, learn from site data and analytics, and regularly launch new features.
Throughout the WebOps relationship, DiscoverNEPA maintained their community commitment through business promotion and raising awareness of local causes and nonprofits. The resulting tourism increase became a major part of the NEPA economy, supported local business growth, and ultimately helped to raise positive awareness of the area and encourage relocation.
Let us help.
If you have a project in mind or would like to know how we can help, please reach out. We'd love to hear from you.