Digital Marketing
How WebOps Transforms Your Website and Impacts Your Entire Business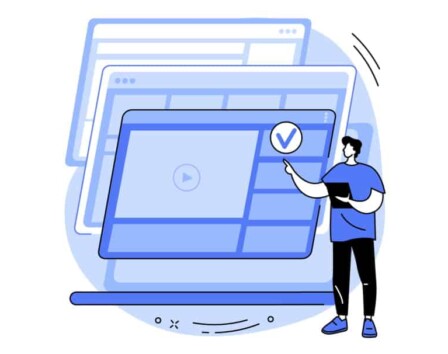 Website Operations (WebOps) is a strategy that improves every department's outcomes by continually delivering value across all business functions, which is also known as displaying digital maturity. Digital Maturity means you're using your website and an array of other digital assets to fully support key business functions.
COLAB's Digital Maturity Model considers five nearly-universal business functions: marketing, sales, customer service, HR/recruiting, and IT/security/compliance. Each of these areas has distinct objectives and contributes to the overall success of the business, and each can benefit tremendously from your organization's website.
How digitally mature is your site? The answer indicates how well you're leveraging your website as an asset to support key business functions. In other words, your site could be hurting or helping various departments achieve their goals, or could even be missing the company's overall goals completely.
The fact is, most organizations are underserved by their websites. At COLAB, we use WebOps to help companies create websites that drive sustainable value for their entire organizations. As a result, our websites enable stronger departmental performance and drive better overall business outcomes.
Below, take a closer look at the aspects of digital maturity and consider how they operate in your business. Learn how COLAB's approach to website design and management leverages the power of WebOps to deliver results.
WebOps in Marketing
You may have noticed that sometimes, a website hurts its brand more than it helps. A poorly-designed site is like a leaky bucket that constantly drains away fresh leads.
Instead, your website should keep your bucket full by legitimizing the brand and offering user-friendly functions that lead to a profitable business. From a user experience (UX) standpoint, it should always leave site visitors with a positive impression of your brand that builds customer loyalty.
Go beyond the ordinary and strive to be extraordinary. The crucial UX might exist on your site, but does it delight? Is it cohesive with the rest of the customer experience (CX) that you're delivering? Many sites are glitchy and lack the full-stack integration it takes for outstanding UX.
Your site could also be hindering your back-end users, which means you have a faulty administrative experience (AX). When your AX is lacking, even your own employees dislike using the site. It's a drag on the marketing team, preventing them from executing higher value tactics and hitting their goals.
When key marketing tactics are implemented appropriately, your site looks great online and also functions smoothly behind the scenes. It delivers an excellent AX, with a content management system (CMS) that adds to your team's efficiency and enhances your marketing tactics.
In an overall marketing sense, your website should serve as your key marketing asset and a hub for all marketing, playing a critical role in driving leads for increased profitability. A digitally mature website helps you become a leader in your industry and build your reputation in the marketplace as you accomplish measurable marketing results.
WebOps in Sales
Through WebOps, your site becomes a partner in the sales process. Instead of confusing your users or sending them away frustrated, it clarifies information for them, builds trust, and moves them along the path of the buyer's journey, and ultimately to a purchase decision.
When your site suffers from poor design, sales will naturally lag because it's difficult for your prospects to make informed buying decisions. The correct information might be on your site somewhere, but it's hard to find. There's no actionable information or integration with your CRM.
WebOps allows you to close more sales with your user's journey in mind. Your website educates and inspires your clients with a positive on-site experience. It moves prospects through the sales funnel and provides assets that aid the sales team and makes revenue generation easier.
At this point, your website helps close deals while reinforcing your expertise in the industry. In turn, you gain a stronger reputation with new and existing clients who are more fully engaged with the sales process.
WebOps in Customer Service
Does your website frustrate or assist customers? With WebOps, your online customer service takes a huge step forward, becoming a self-service portal.
Customers can answer questions quickly and easily. You're providing essential information through helpful FAQs and other customer service content, reassuring your customers that you're a trusted brand. Your website is easy to navigate and answers most of your customers' most common questions, which preserves your other customer service resources for more complex interactions.
A digitally mature site serves as a central point of contact and a self-service hub. Solve issues quickly and route issues to the people who can solve them, improving overall customer satisfaction. Your satisfied customers then become brand advocates due to their positive experiences.
WebOps in HR and Recruiting
Qualified candidates might be avoiding your website because it's stale, lacks helpful information, or just isn't found in their searches. Revitalize your HR and recruiting process with a site that provides fresh, compelling job details, portrays your company culture effectively, and attracts the right candidates.
Integrate with your hiring platform to make the application process seamless for candidates. By refining the prospective candidate experience to speak to the right candidates and remove friction from the hiring process, you can build your base of prospective employees while providing an excellent experience.
The result is a streamlined recruiting and hiring process that welcomes your new hires into the company culture. Plus, your existing employees can use your site to show off that they're happy with their employer and encourage their talented friends to consider you as a future employer, too.
WebOps in IT, Security, and Compliance
Website security is the practice of making sure a website is hardened against vulnerability. It must not be vulnerable to external threats that would use your website resources maliciously.
Poorly-designed websites are prone to problematic outages that cost the company money and cause widespread frustration. Your IT department scrambles to fix the issues and prevent business interruptions. Plus, updating the site often breaks other parts of the website and causes added downtime for your employees and clients.
What about your company's compliance? Your website should enable accurate, efficient compliance changes that flow through the entire website, reducing time spent on administration.
Your website should always protect and maintain the confidentiality, integrity, and availability of your data. It should manage the risk of exposures, assure a secure and stable information technology (IT) environment, and monitor systems for anomalies that might indicate compromise.
Are You a WebOps Company Yet?
In the WebOps paradigm, your website is fast, secure, and compliant at all times. Consistency is the new norm. Errors are rare. Automated testing constantly ensures your company's ongoing security and stability. Every business function operates more smoothly and productively. Plus, your internal and external customers are thrilled with their site experiences.
Ready to learn more? To see how WebOps improves website design and management for better outcomes in every department, take our digital maturity assessment.