Apparent Insurance
Launching a website for a new insurance brand
COLAB and Apparent Insurance demonstrated the power of an authentic partnership through a website redesign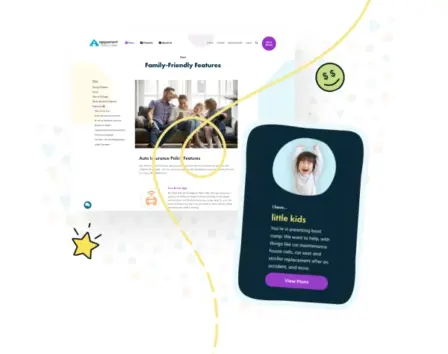 Opportunity
Develop a genuine and mutually beneficial partnership starting with a brand new website design
Solution
Engage deeply in Apparent's product strategy to deliver the best possible launch of the new brand
Outcome
The brand website launch is a success and Apparent continues to draw value from their relationship with COLAB

Apparent an insurance company designed for parents, by parents. Believing that insurance could do better, they started Apparent insurance to truly cater to today's parents by collaborating with real parents in the formation of the company (a practice that continues to shape the company today through their parent panel). Their mission is to make insurance work harder (but feel simpler) for parents of all kinds. They offer tailored features, discounts, and services designed specifically for different stages of life as a family.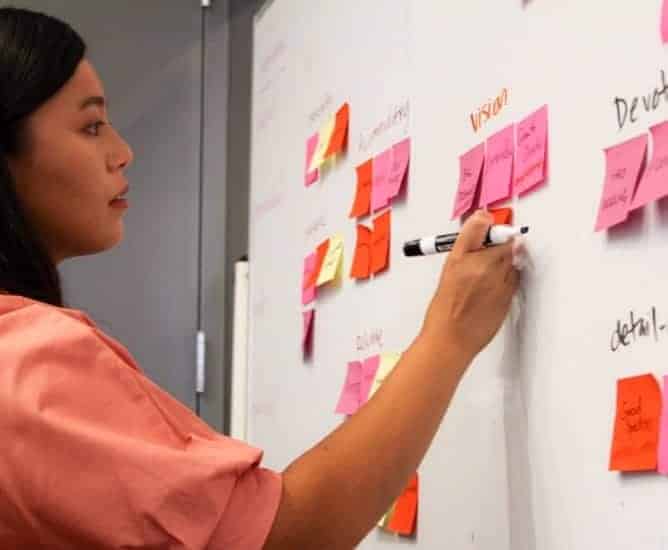 Moving Beyond a Transactional Relationship
Apparent approached COLAB to design and develop their marketing website with some skepticism about what they could expect from a relationship with a digital agency. They were accustomed to producing the vast majority of their marketing materials in-house, relying on external agencies only for discrete pieces of a marketing campaign, such as a logo design for example. In their experience, agency relationships had been fairly transactional, and they seemed to expect little more from them.
COLAB doesn't have any transactional relationships with clients because that would go against one of the founding principles of the company: genuine collaboration with clients. The name COLAB comes from this deeply-rooted value to develop trusting, open, and highly-collaborative relationships with clients. Whether or not Apparent realized it at the start, COLAB was going to do everything they could to earn their trust and confidence, and win them over to our way of working.
Realizing the Power of a Compelling Marketing Website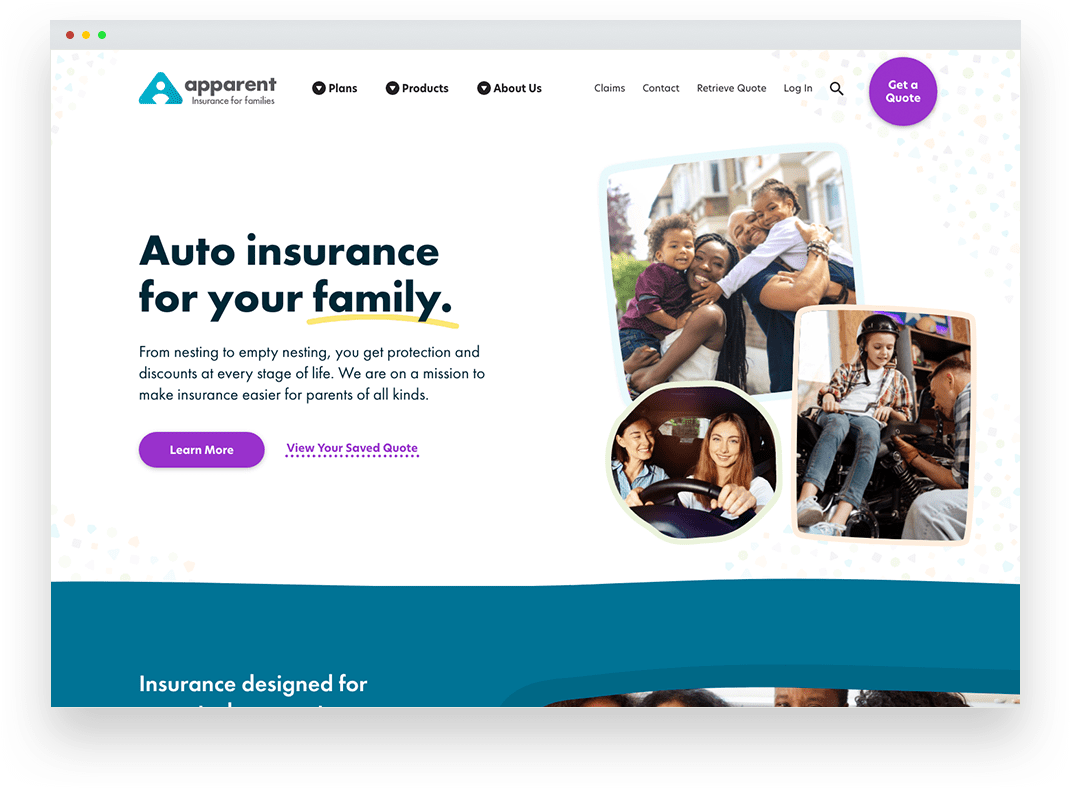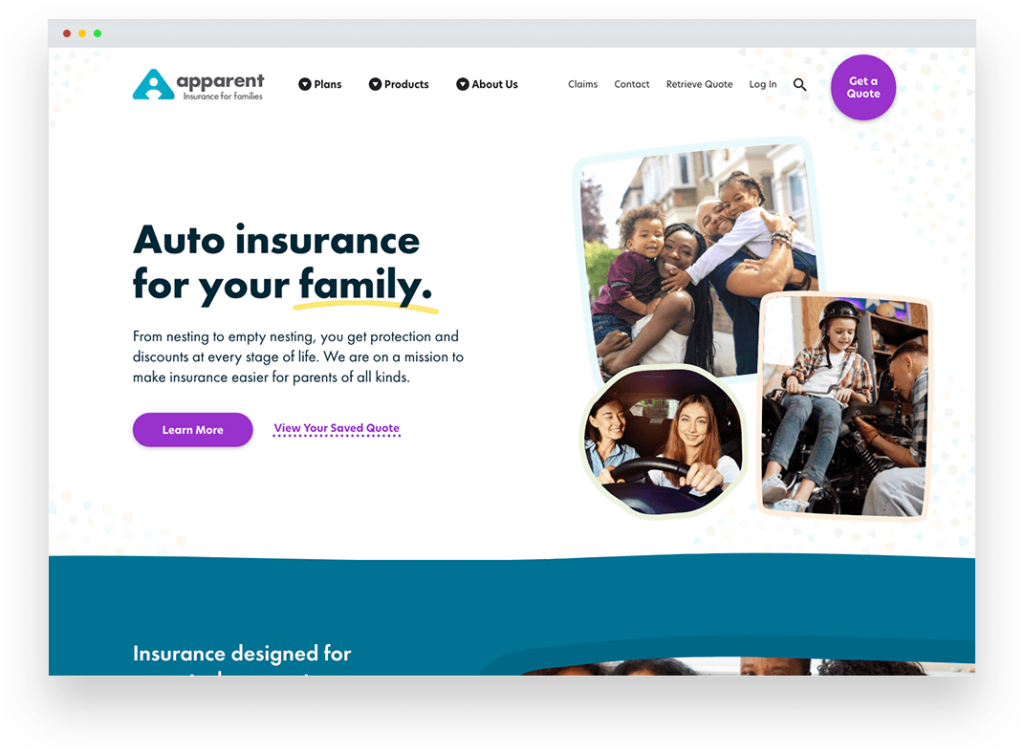 Apparent Insurance were ardent believers in the customer journey. They had a firm grasp of the importance of helping a customer move along the path from initial research to decision-making. From their point of view, guiding prospective customers towards their insurance quote engine (https://quotes.apparentinsurance.com/) was really the fastest way to help customers evaluate insurance options and make the best choices for their families.
COLAB appreciated the value of helping prospective customers make sound choices, but we knew from our experience building marketing websites, that we could add tremendous value to the customer journey by helping to differentiate what made Apparent unique. Since the formation of Apparent was so distinct from other insurance providers, COLAB felt that story needed to be told in an authentic and compelling way on the Apparent website before guiding customers through a custom quotation process.
Changing Minds, Building Partnerships
The Apparent team was thrilled with the website COLAB was able to design and develop for them. It told the story of their company in a clear, clean, and compelling way that spoke directly to parents longing for some simplicity and sanity when it comes to insurance. It helped prospective customers feel more confident about their choice of Apparent as they moved through the insurance quotation process.
COLAB worked closely with our team from the early stages of our brand development to really understand what we were trying to achieve as we launched Apparent. They delivered a web experience that truly shows parents who we are as a brand and how we can help them with their insurance needs.

Colleen Benzin
Head of Apparent Insurance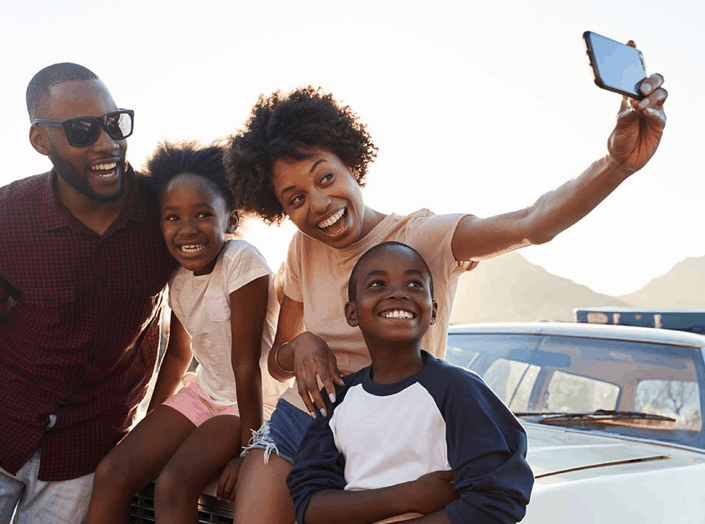 The design and development of the website also changed how the Apparent team perceives the value of their relationship with COLAB. The collaborative process of working with COLAB has demonstrated the opportunity to draw greater value from the relationship. COLAB isn't just a producer of deliverables, but a partner who willingly engages Apparent in the strategy and thought-work that makes the best possible end product. As a result, Apparent continues to work with COLAB to make incremental improvements to the new website on a monthly basis, a genuine business solution for a new startup.
Let us help.
If you have a project in mind or would like to know how we can help, please reach out. We'd love to hear from you.