Bookoff McAndrews
Shaping first impressions of prospective clients and employees
We worked with Bookoff McAndrews to rebrand to BoMc and created an award-winning website to align with the new brand.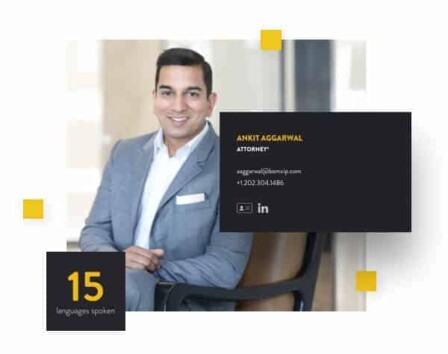 Opportunity
Shape the perceptions and first impressions of prospective clients and employees
Solution
Design a visual experience that embodies the brilliance of the team and the firm
Outcome
Balance of personality with strong sense of intellectual rigor, professionalism, and reliability

In August of 2012, Les Bookoff and Roland McAndrews established Bookoff McAndrews, a law firm with a singular focus on high quality, strategic patent counseling and prosecution. The firm opened in a small office on Pennsylvania Avenue in Washington D.C. Just seven years after opening its doors, BoMc grew to over 30 attorneys, scores of high technology startups and Fortune 500 companies to call clients, and nationwide recognition typically reserved for much more established, larger firms.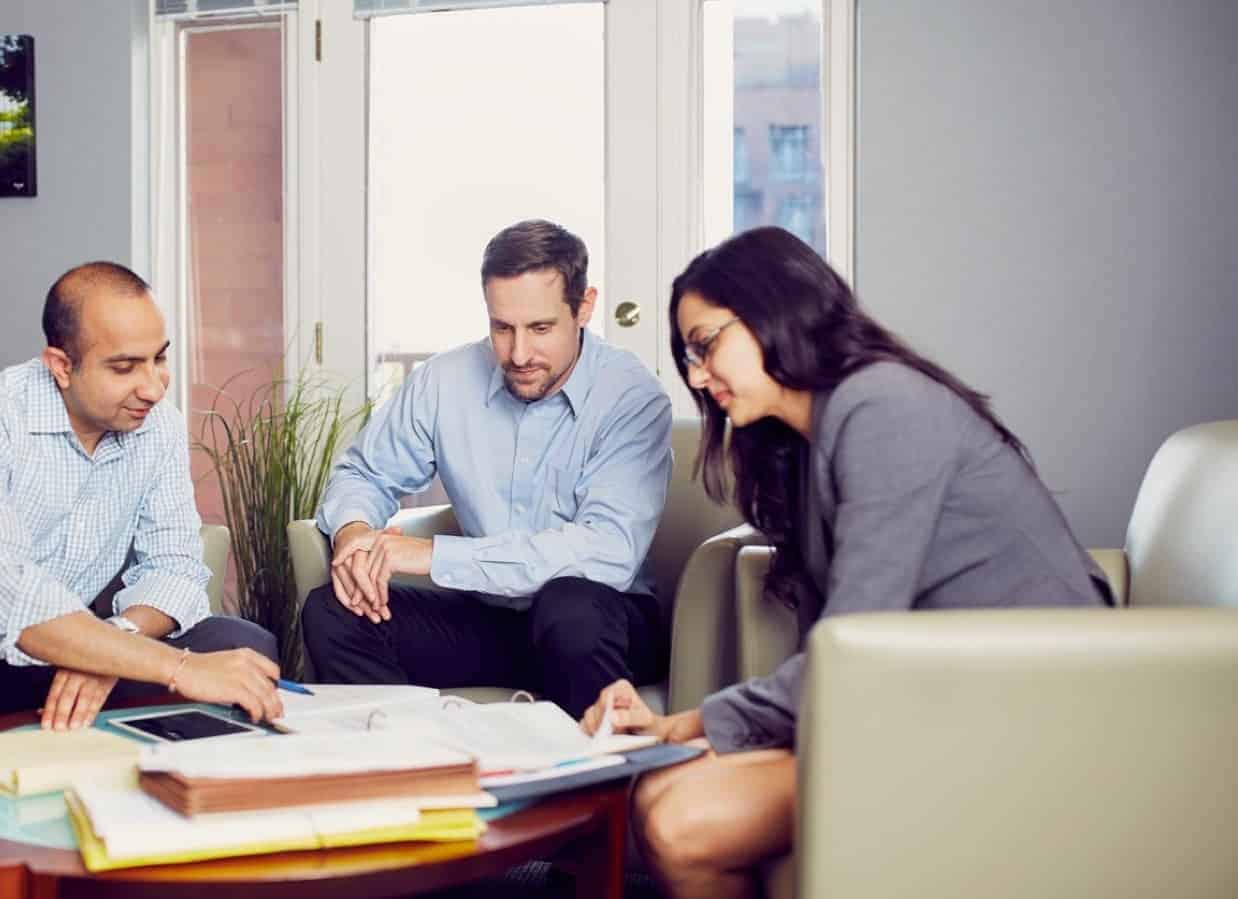 Power to Shape Perceptions
BoMc had a website, but they hadn't invested a lot of time or attention to it over the years. As they grew in size, they developed a greater appreciation for the role the website played in forming impressions of the firm. Law firms rely on client recommendations, references, and word-of-mouth for new client acquisition far more than internet search or advertising; however a law firm's website is still a critical factor in forming first impressions with prospective clients. Before they call or send an email, prospective clients are informing themselves about the firm through the website. The firm's website has tremendous power to shape clients' perceptions about its professionalism, reliability, and personality. BoMc had a website, but it didn't have a website that truly reflected everything the firm had become over the past several years.
Reflecting a Dynamic and Diverse Team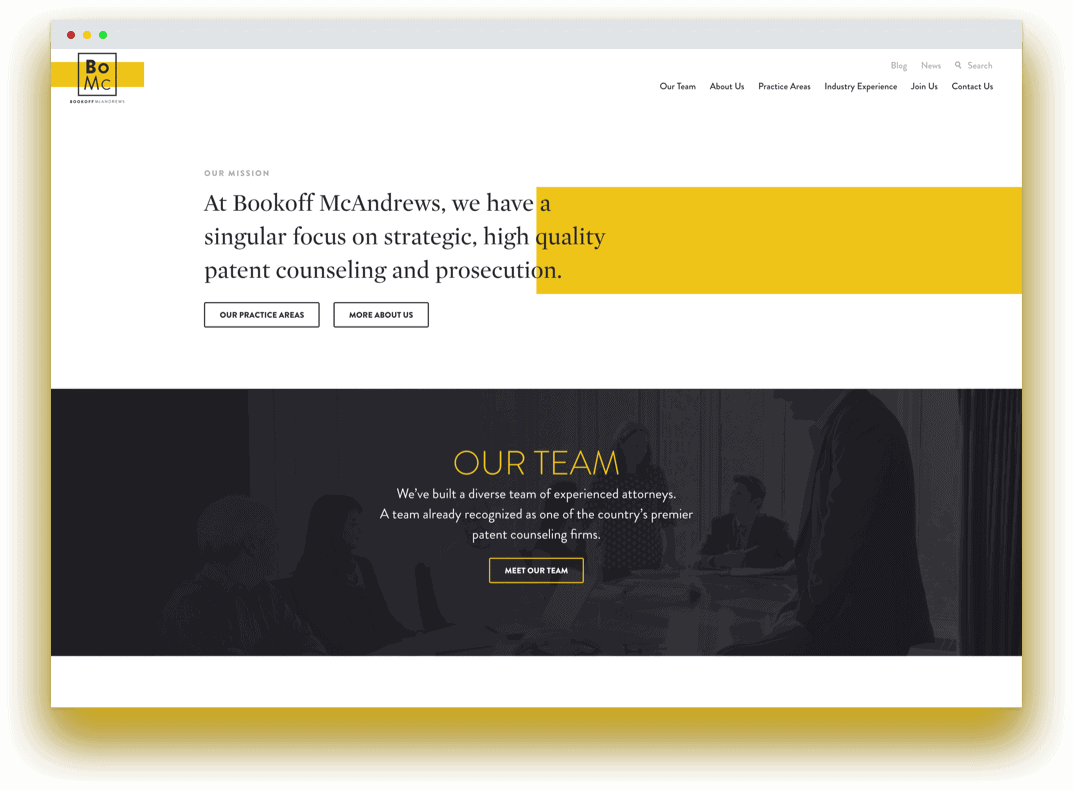 Legal services can seem staid and conservative, but that wasn't genuinely BoMc's vibe. They work with Fortune 500 companies and high-tech start-ups. Their team is comprised of musicians and marathoners. They're a cool, vibrant group of people. Given their clientele, as well as the legal talent they need to recruit, it was imperative for the site to feel technologically modern, both in design and function. COLAB designed a visual experience to reflect the reality of who BoMc is, balancing the vibrancy of their personality with strong sense of intellectual rigor, professionalism, and reliability. The website looks bright and smart, diverse and well-balanced — just like the Bookoff McAndrews team.
Sophistication that Speaks Volumes

COLAB's WordPress design for Bookoff McAndrews speaks for itself. Clean, modern, and sharp, BoMc's website is an effective calling card for both prospective clients and prospective hires. In a world where your website is the 24/7, 365 days of the year face of your company, Bookoff McAndrews now has one that reflects what makes their firm truly great.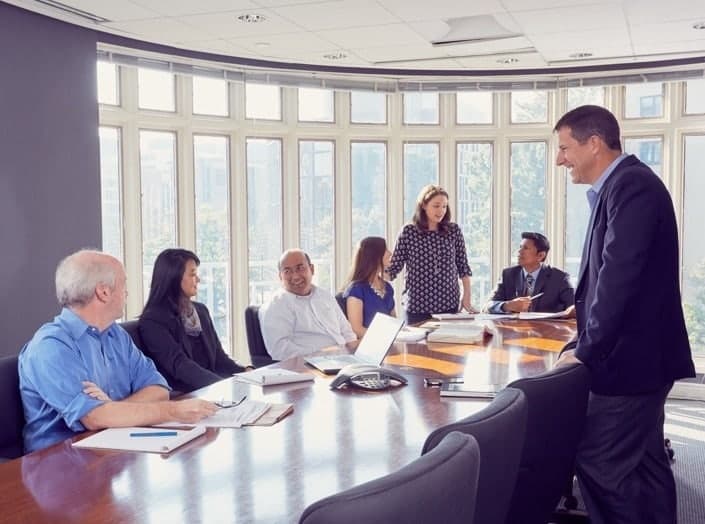 Let us help.
If you have a project in mind or would like to know how we can help, please reach out. We'd love to hear from you.