News
Free COVID-19 Website Alert Banner for Richmond Nonprofits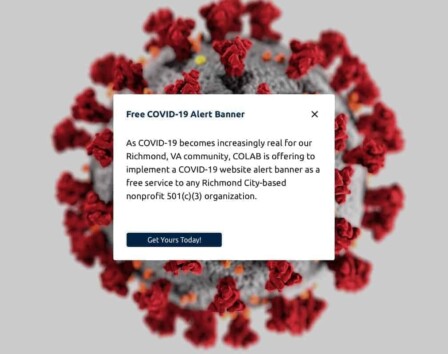 As COVID-19 becomes increasingly real for our Richmond, VA community, COLAB is offering to implement a COVID-19 website alert banner as a free service to any Richmond City-based nonprofit 501(c)(3) organization.
Why are we doing this? At COLAB, our purpose is to help others achieve more and it is important to us that the most vulnerable populations in our community are supported through this time. The only way we're going to get through this is together. We want to ensure that service costs don't prohibit our community organizations from communicating critical messaging to the people they serve. We also want to make sure we're doing our part to help disseminate information and stop the spread of COVID-19.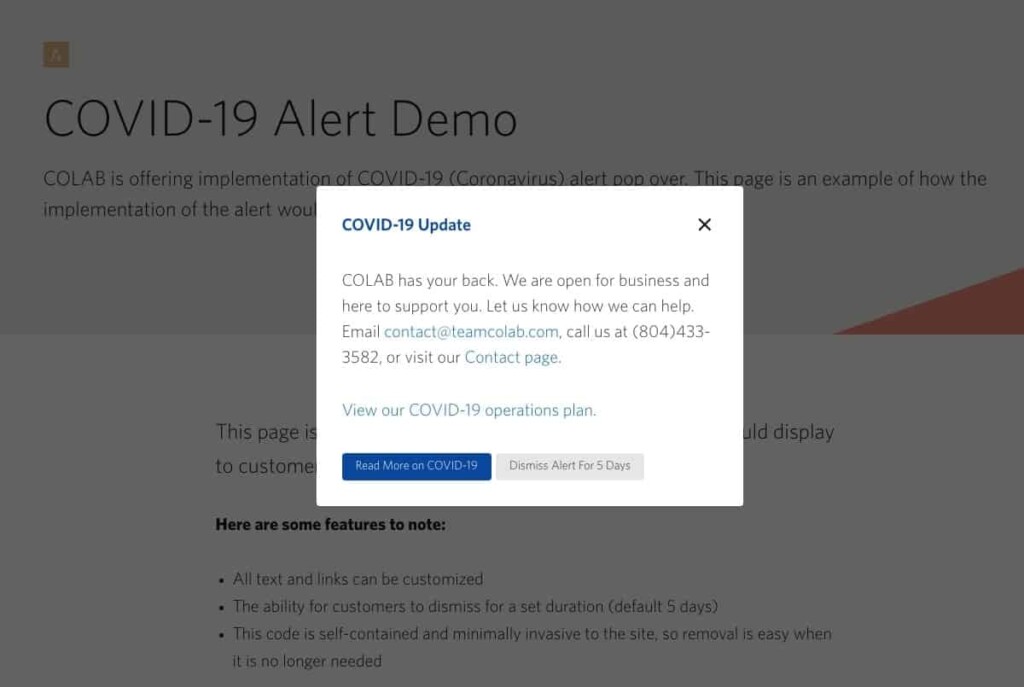 Here's what you can expect with our free solution:
A similar implementation to the above demo page
All text and links can be customized
Visitors can dismiss the alert for a set duration (defaulting to reappear in 5 days)
This code is self-contained and minimally invasive to the site, so removal is quick and easy when the alert is no longer needed
Implementation within 24-48 business hours (pending availability due to demand)
Additional options that can be implemented at a reduced or flat rate for nonprofits:
Branded to be more in line with typography and colors
Content management of text, links, and duration
Addition of graphics or images
Design and creation of COVID-19 page
Alert bar at the top of the screen to persistently point out COVID-19 page
Ability to schedule
Ability to reuse in the future for other alerts
To get this on your website, we will need:
The content you'd like to show up including:

A heading for the alert window
Any text content you would like to display
The link/URL you would like the button to link to

If you would like any of the additional options (at a reduced rate for nonprofits)
Access to your CMS (login/password)
Access to hosting environments (live and staging if you have one)
To get started, please send us an email at [email protected], call us at (804) 433-3582, or send us a note via our contact page.
This is a challenging time for everyone, so if you work at a for-profit business or a nonprofit organization outside of city limits, please don't hesitate to contact us if you need help. We are happy to discuss options for helping any business or organization, local or otherwise.