As a digital marketer, you depend on search engine traffic for your business. Unfortunately, the algorithms that determine where your site appears in results pages are in a state of constant flux. With every update to how rankings are determined, marketers race to ensure their website conforms to new best practices.
Last fall, Google again forced everyone to scramble by announcing it will begin incorporating Core Web Vitals (CWV) into its rankings. Google's Web Vitals initiative was designed to provide site owners with a means to measure user experience. Coming this June, the three metrics of Web Vitals dedicated to site performance will be included in Google's search algorithm.
After a tumultuous 2020, you may have missed the news about the changes tied to CWV – and you're not alone. According to a recent study, less than 15% of 20,000 evaluated websites conform to Google's new best practices. But with time running short before these changes take effect, you must act now to get your site in order. Otherwise, your ranking – and your business – will suffer.
Understanding What Core Web Vitals Are and What They Mean for Your Website
Google has always been in the business of helping internet users find what they're looking for. Over the past several years, the company has also grown concerned with ensuring users have a good experience once they get there.
Given that search algorithms are constantly updated, Google will continue to adjust its metrics behind CWV. But they will remain centered around a crucial trait for every website and its visitors: Speed. For users, your site's speed is reflected in terms of loading, interactivity, and visual stability. But for Google, those three components of the user experience are defined in 3 ways:
Largest Contentful Paint (LCP): When users come to your website via mobile or desktop, their browsers have to "paint" the images and text and outline the pixels. This metric calculates the amount of time it takes for the largest graphic or image on your webpage to load. If your LCP happens within 2.5 seconds, Google determines that your site provides a positive user experience. If not, and your image is too large for users' screens, your site's ranking will be impacted.
First Input Delay (FID): Focused on interactivity, FID measures the amount of time required before your webpage becomes functional to users. As users access your site, they experience a delay before they can click on a button, link, or other field to find what they need. To comply with Google's standards, your pages should feature an FID of fewer than 100 milliseconds.
Cumulative Layout Shift (CLS): If you've ever been visiting a site and content such as text, a button, or an image unexpectedly moves as the page loads, you've experienced a layout shift. Caused by page elements loading at different rates, CLS measures the amount of movement by the visible elements on your page. Analyzing the viewable area of your webpage against how much the unstable components of your webpage shift determines your CLS. According to Google's guidelines, CLS should be below 0.1. That means the elements on your site should only shift by less than 10%.
If your website satisfies the three CWV metrics within Google's recommended ranges, then it will be ranked higher in search results. That said, the company has not been transparent on how heavily it will weigh CWV compliance within its algorithm. But if you want your website to perform at a high level for your business, you have to ensure it does the same for its users.
Free WordPress Core Web Vitals Tracker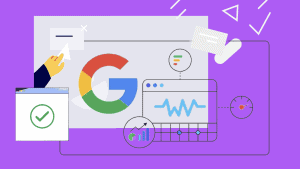 The WordPress Core Web Vitals changes will be upon you before you know it. We've created a tool to prepare your website for these upcoming changes. Measure your site's health, record your findings, and prioritize which tasks to execute first.
Core Web Vitals Illuminate Whether Your Site Meets User Expectations
Google's plans to prioritize its rankings for sites that meet CWV standards provides ample motivation to reconsider your site's performance. If your site is slow or ultimately doesn't feel fast for users, the most important marketing tool in your arsenal may suffer.
In addition to contributing to the perception of your business, website performance has a measurable impact on conversion rates. If your pages load slowly or its elements jarringly move around, your visitors will leave rather than weather a poor experience.
A recent study showed pages that load in less than 2.5 seconds deliver a conversion rate close to 2%. As that time rose to 4 seconds, conversion rates fell to less than 1%. Before Google makes any planned changes to how it calculates its rankings, your slow website is already hurting your business.
Core Web Vitals Issues Are Easy to Measure, but More Difficult to Fix
If your business is planning a new website, you have to take CWV scores into account. Google has already brought these metrics to the surface in tools such as Google Analytics, Lighthouse, and PageSpeed. You can also generate reports on CWV using the Chrome User Experience Report. Plus, you can run a test on your existing's website's compliance with CWV by entering your URL here.
While you have many tools to illustrate where your site may be falling short with its user experience, the resulting solutions won't often be so simple. Of the metrics in CWV, LCP is the easiest to resolve by ensuring your site's graphics and images are correctly sized. But site performance issues typically aren't so straightforward.
If your pages are taking too long to load, your solution likely exists as a design or a development issue. Since site performance isn't always visible, higher-ups in your organization may not consider it a priority. As a result, your site can easily be hampered by technical debt and outdated code. Your solutions could range from shifts in your site layout to technically demanding changes to your Javascript or website infrastructure.
The good news is, unlike with previous algorithm changes, Google announced its Core Web Vitals plan with a fair amount of notice. But Google's launch date is rapidly approaching, and you're running out of time to implement a potentially complex solution from your development team or digital agency.
Updating your site's user experience may not come easily, especially if its performance has gone neglected for too long. However, if you want to ensure your business draws the most benefit from your digital efforts, now is the time to get up to speed.
Check out our latest core web vitals developer's guide for technical details on how to improve your score.