News
COLAB Welcomes the Mayor of Richmond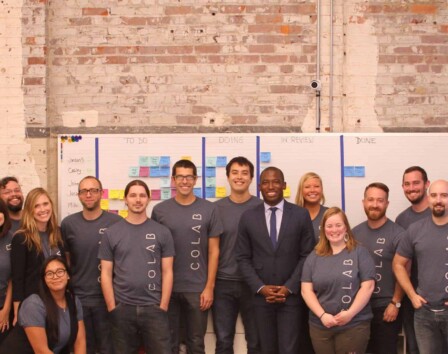 A laid-back chat on jobs, technology, women in tech, and guys on horses
We were honored to have Richmond Mayor Levar Stoney stop by our Manchester headquarters a few weeks ago. The youngest elected mayor in city history, Stoney brims with optimism and boundless youthful energy and is for certain one of the more progressive leaders we've ever seen in RVA.
Richmond is a city that is attracting millennials at twice the pace of our nation, and one filled with nationally recognized restaurants, an influx of breweries and a thriving arts and creative scene. But it's also a city that needs the support of its government, its citizens, and the business community to help those less fortunate and to turn around a struggling school system. We think Stoney is just the kind of leader we need to carry RVA into the future.
Over the Mayor's visit, we showed him a few of the projects we were tackling – everything from marketing websites to business applications.
Below, a recap of the visit and our full-team roundtable discussion with the Mayor, his thoughts on technology and monuments, and our own team's perspectives on the industry and STEM careers.
How did the mayor wind up at COLAB?
Eddie O'Leary, President: He knew that we had a small, fast-growing business and his office contacted us and said he would be interested in stopping by. I obviously said yes, because I think it's important to know about businesses like us and what we are doing and bringing to the table in Richmond. As I told all my people here, if you have the opportunity to sit down to an informal meeting with the mayor of the city, you should use that opportunity. Really, none of our conversation with him was about the business; it was more about the city, and around what we could do to help the less fortunate.
What did you discuss with the mayor?
Cesley Musngi, Senior Designer: I broke the ice. The very first thing I asked was his perspective on the monuments issue – whether they were coming down in Richmond or not. That was a really hot topic, so I was like, 'Whatever, I'm going to ask.' He took it like a champ. He probably wasn't anticipating someone to ask that. Charlottesville had happened a few weeks prior, and he was in with us a few weeks before a protest was supposed to happen on Monument Avenue.
EO: Coming off the monument discussion, we spoke of how it was important to bridge the gap between different communities in Richmond, and create an equal human experience for everyone.
Jesse Tolj, Senior Software Engineer: We asked a lot of questions on how he does his job. We asked about the hardest part of his job; he answered he is a doer, and that he'd worked on a lot of campaigns, but as being mayor, it had been hard for him to learn to delegate and take a more hands-off approach – to get the ball moving and not roll up his sleeves and get in there and do it himself.
EO: He and I talked about organizational efficiency. I've put a lot of work into making COLAB more efficient to scale and grow for the future. One of the biggest challenges for really small businesses is to grow from two or three employees to five or more and truly scale it properly. Companies fail for lack of ability to manage a company. We talked a lot about the things the company has done to make ourselves more efficient.
What were the Mayor's comments regarding technology in Richmond, and noting his previous role in the Governor's administration, throughout Virginia?
EO: He spoke broadly about the impact of the technology sector – the value of government efficiencies that are gained from web-based software and applications, and of course technology as a job creator.
CM: He said the city is working with the leaders of surrounding counties to keep tech and creative talent in the region. It's tricky for Richmond – it's more expensive to locate in the city, but that's where the people want to be. And it's important to have companies in the counties…but as the Mayor, you don't want all of the jobs out there.
What's your take on Richmond's technology scene?
EO: Richmond is great, but we are of course behind in a lot of ways. That's not new news. It's much smaller scale, but there is a lot of high-quality design and development work going on here. We're helping spearhead a lot of that at COLAB, and you have several other creative and digital agencies that are doing cool things. On the bigger side, you see Capital One and CarMax and Snagajob that are really innovating in their respective fields. Here's the thing though: sure, I would love it if the city would do more for the technology sector, but we have way more important needs to get to. If the city has to choose between us or the schools, look, we are fine. Go help and support the people in need.
What are our advantages as a community to growing our technology sector?
JT: You can find good developers anywhere. Our advantages are independent of technology: We have a low cost of living compared to the gold-standard cities like San Francisco, L.A. or New York. But the cost of living in those cities is insane.
Are there any specialties that Richmond is doing well?
JT: As far as development specific stuff, the JavaScript community here is pretty solid. When you go to a JavaScript meetup in town, there's like 40 or 50 people there, some from small or midsize agencies and others from CarMax or Snagajob or Capital One. It's nice and collegial community. People are open to sharing what they are working on – it's cool.
CM: The gaming development scene here is actually really interesting; it's tiny but active I would recommend going to RVA Game Jams at [coworking space] 804RVA to see what is coming out of it. It's crazy what they can accomplish in a 72-hour span. Companies in Richmond need to know that as developers, we can do so many cool things and create innovative products for them.
There's so much talk about needing more diversity in technology careers. Cesley, as a woman in tech, what has your experience been?
CM: With programs like CodeVA and some local groups on MeetUp.com, in the last few years we have seen more STEM events pop up for younger children, specifically young girls, which I think was really cool. And I'm jealous, because if we had those when I was a kid I'd have been all over it.
Do you think Richmond companies are doing a good job about hiring those with diverse perspectives?
CM: From a technical and demographic sense, RVA still has a lot to improve on in terms of diversity from both a gender and race standpoint. Still, it's not just about race and gender, but also experience – where people are educated and where they are coming from throughout the country. Those perspectives are just as important. The only way to fix the issue – if it is an issue – is to be cognizant of that when hiring talent. That might mean resourcing out of Richmond, which isn't ideal. It's a hard thing to balance – lots of places talk about the need for diversity, but you don't just want to hire anybody. As an employer, it's really just trying to look in the right places for talent and putting yourself in a place where these people are. Go to these MeetUps for women and say you are interested in hiring more women, for example.
What needs to improve to get Richmond technology to, say, a level like Raleigh or Washington?
EO: There is a lot of potential here and that is starting to be cultivated and pursued. What Richmond is doing well is from a quality of life perspective. For a potential employee, you can live in Richmond for a relatively low cost and have access to a ton of cool things – the breweries, the restaurants, everything you always hear about in the rankings. That's what it takes to attract the millennial market to fulfill those jobs and the innovation we need. The fact that Facebook is building a data center here, Stone Brewing has its East Coast base here…Richmond has some good things going to drive that innovation and fill those positions.
JT: I'd love to see more of a startup scene, which I think would benefit everyone. As developers, we could build new business applications that can help these startups disrupt industries. Startups help solve problems.
Any final thoughts on the mayor's visit?
CM: The fact that he is making an effort to have a presence within our industry and help support it in any way, even just coming by and having a beer with our group, is one tiny way to inspire people like me to know that there are people in government who care about you. That was the biggest takeaway for me.
EO: It's really difficult these days to actually be heard by the people who have the power to make decisions that affect your lives. My favorite thing about Mayor Stoney is that, if you want to talk to him, you can. He is so incredibly approachable. So if you have something on your mind or you are worried about something, speak up. Ask the mayor. He surprised me in a way; I've met a lot of politicians who swoop in, do a speech and hit the road, but he spent an hour just chit-chatting over beers. No speeches. He didn't have an agenda. It was incredibly refreshing.
What kind beer did he drink?
EO: Stone. Of course.