News
COLAB's Design/Build for Hot97.com is a 2023 Webby Award Honoree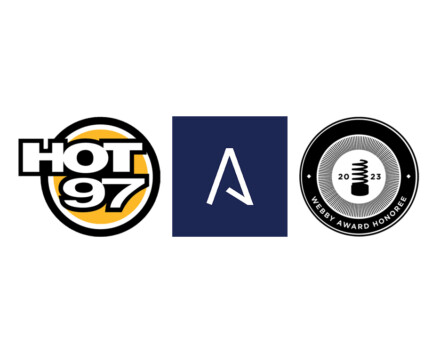 COLAB is thrilled to announce that its design/build for Hot97.com has been selected as an Honoree in the 27th Annual Webby Awards!
Hailed as the "Internet's highest honor" by The New York Times, The Webby Awards is presented by the International Academy of Digital Arts and Sciences (IADAS). COLAB's design and web development work for the iconic, New York-based hip-hop station, Hot 97 FM, earned them Honoree status in the "Websites and Mobiles Sites – Music" category. This global honor is granted to only the top 20% of applicants, and there were nearly 14,000 projects submitted in this year's competition. With entries from all 50 states and over 70 countries worldwide, this prestigious award celebrates excellence on the internet and is the industry's most respected symbol of success.
Designed to bring a more modern, user-friendly experience to the website, Hot97.com was completely transformed. From visual designs to technology strategies, COLAB worked closely with the Hot 97 team to create a world-class web experience for visitors. With bold visuals and innovative design elements, the new website provides music, culture, and hip-hop news; live streaming radio content; as well as exclusive video content, artist features, and interviews. Additionally, the website Content Management System (CMS) allows Hot 97 staff to add, manage, and update content for both their native mobile app and responsive website in one place, saving their internal team valuable time and enabling faster content production.
While there are numerous improvements to the overall site experience, some of the unique features & enhancements on this site include:
User Experience: The site design was updated to embody the modern visual language expected of a genre-leading brand. The vast content library was also updated and organized within refined taxonomy, category, and tag structures. This enabled curated content management and content relation across multiple custom post types.
Video Integration: JW Player was integrated allowing for rich analytics, cross-platform compatibility, and a variety of curation features like customized playlists. Usage of this third-party tool represents a shift from YouTube-managed video to client-managed video, allowing Hot 97 FM to have more control over its digital video content and curation.
API: One of our favorite invisible features, the custom API endpoints COLAB created allows content from the website CMS to power content for the native mobile app, resulting in efficiencies for administrators and the administrative experience.
Advertising Integration: Many clients have love/hate relationships with their ad platforms: they love the revenue they generate but hate the way they detract users from the content or the brand experience. For this project, key ad sizes and placements were strategically integrated into the new design to provide maximum ROI for advertisers, while working symbiotically with the updated visual design and content hierarchy on each page or post type template. This provides a 'best-of-both-worlds' scenario for the ad platform, advertisers, and Hot 97.
Live Audio Stream: An extremely popular feature on their old site, so fans could listen to the station when they weren't near a radio, COLAB updated and customized the visual interface so it aligned with the new site design.
SSO: The groundwork for single sign-on (SSO) was created, to enable user authentication to the site to access exclusive content. This solution is integrated with AWS Cognito, which serves as the user directory management tool on both the desktop site and the native mobile app.
We are proud of our team, our partners, and our client for the collective effort that went into this project. The award-winning result embodies how multiple teams can work together, combine their expertise, and create meaningful user experiences that support business growth.