News
COLAB 43rd on 2016 Inner City 100 Award List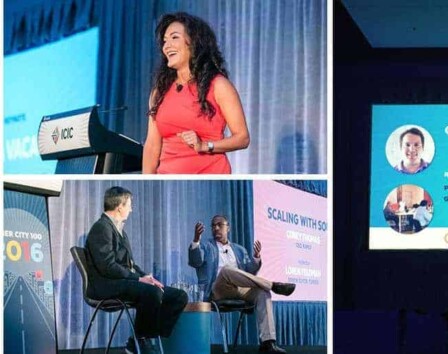 When we started thinking about moving from our old office, it was important for us to remain in the City of Richmond, and ideally to stay in the Manchester neighborhood. Thankfully, with the help of our friends at Thalhimer, we were able to find the perfect spot just half a block away.
Our new office in City View Landing epitomizes our commitment to the city and the neighborhood. Manchester is one of the many areas in Richmond undergoing a massive rebirth, and it's exciting for COLAB to be a small part of that process.
Even though leaving the city would have been more advantageous from a financial standpoint, we believe that a strong urban business core, especially in neighborhoods in need of revitalization, can provide jobs and taxes that can over time improve a city's economy, education and overall quality of life.
As such, we feel incredibly honored to have been included as one of the 2016 Inner City 100, an annual list of the fastest growing companies from inner city areas around the country. Managed by The Initiative for a Competitive Inner City (ICIC), the results are compiled and published in Fortune Magazine each year.
From the ICIC website:
The Inner City 100 program spotlights and supports companies in underserved urban areas by providing them with access to national visibility, executive education, and networking opportunities. The program culminates with the annual Inner City 100 Conference and Awards where winning companies gather for a full day of management education and an unveiling of the Inner City 100 rankings.
Our President, Eddie O'Leary, and our VP & Director of Production, Ralph Otto, traveled to Boston, MA in September to attend the conference and accept an award for COLAB, which ranked 43rd out of 100 winners and thousands of nominees.

We're very proud to be included on this list with so many like-minded companies committed to their inner cities. We are in love with Richmond, and we look forward to serving clients and providing jobs here for a long time.
Photos courtesy of Paige Brown Photography – www.paige-brown.com
Like what you hear?