News
3 Tips for Efficient and Effective Remote Work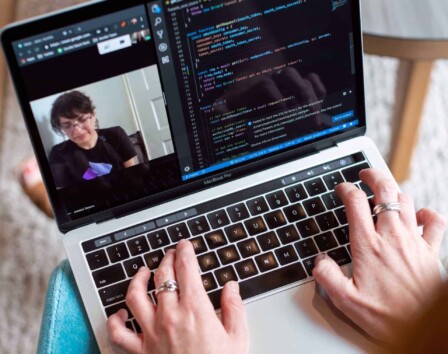 As part of our COVID-19 preparation, I want to provide some tips for creating an efficient and effective remote work environment.
At COLAB, remote work is part of our weekly habit. We recognize the importance of flexibility and it's amazing what a change of scenery can do for your creative juices. It turns out this infrastructure will now be a critical tool for us to maintain business continuity during this time of uncertainty. Here are some tips and tools that may help your business weather this storm in a seamless fashion:
1.
Communicate. Communicate. Communicate.
Communication is the cornerstone of all business operations. Our workforce must have tools that enable fast internal communication. This is especially the case when dropping by someone's desk or jumping into a conference room is no longer an option. In lieu of in-person communication, remote collaboration and messaging tools are a great way to stay connected and productive. Here are some tools that we use to facilitate communication at COLAB.
Slack is a secure messaging tool that allows you to communicate with your colleagues and connect all of your work tools. That means you have a single source to communicate and collaborate with your team without missing a beat.
Twilio is a cloud communications platform that allows software developers to perform several communication functions. Developers can use their APIs to make/receive phone calls, send/receive text messages, and perform other communication tasks. This gives you massive amounts of customization and flexibility in communicating with your workforce or customers. We built a tool that was used to communicate to teams during Hurricane Irma.
When the phone just isn't enough, video chat and conferencing is the way to go. Nuance and body language can be lost when we can't see each other so we're big fans of using Slack video conferencing, Google Hangouts, and Zoom for video chat and conferencing.
2. Use cloud storage for efficient remote work collaboration.
Cloud storage is the best way to access and share files. This allows for simultaneous work and collaboration without having to email files back and forth. This is critical when we are in the midst of a website design and development build.
Google Drive provides tools like docs, sheets, and slides – all on a secure cloud-based platform that makes it easy for you to share, store, and access files.
Microsoft 365 brings together the Microsoft Office tools with cloud services, device management, and advanced security to allow for a connected, productive, and collaborative work environment.
3. Manage your team remotely.
Whether it's task assignment/tracking or time management, there are a plethora of tools that allow for seamless collaboration with your team, even if you're not in the office with them. While we use tools specifically for software development, there are many others that serve a variety of industries. Here are just a few to consider:
If you need advice on these or any other digital tools, our team is ready to assist in whatever capacity you need. COLAB is here to support and empower your business. Shoot us an email at [email protected] or give us a call (804) 433-3582.